Saddle Fitting Appointment & Charges
Saddle Fitting Service
TDS Saddlers offers a professional saddle fitting service in Hampshire, Surrey, Sussex, Wiltshire and Berkshire by our Master Saddlers.
Saddle Fitting Call out Charges
One Horse:
Up to 15 miles of Four Marks £55.00 plus VAT
Over 15 miles of Four Marks £60.00 plus VAT
Over 30 miles of Four Marks contact us to discuss, but a minimum of 2 horses.
(Minimum of two horses at £48.00 plus VAT each)
Extra saddle check on the same horse £5.00 plus VAT per saddle
More than one horse at the same location:
Up to 15 miles of Four Marks £45.00 plus VAT per horse.
Over 15 miles of Four Marks £48 plus VAT per horse.
Over 30 miles of Four Marks contact us to discuss.
Extra saddle check on the same horse £5.00 plus VAT per saddle.
Click for details of our location.
Fitting your Saddle
Initially, we will discuss your saddle fitting appointment with you on the telephone to ensure we have all the relevant details about you, your horse and your specific requirements.
During the assessment, we will observe your horse both stationary and ridden in walk, trot and canter on both reins on a flat surface. Also over a jump if required.
The assessment price includes ensuring the saddle panels are level and balanced with an even composition of flocking with any minor adjustments or alterations being completed on site.
Any major adjustments, alterations and/or repairs will be returned to our workshop for completion and are not included in the cost of the appointment. Our saddle fitter will give a quotation for any such work before taking the saddle.
Get the full support of one of the UK's leading saddle fitters
If you need help choosing the right saddle, send us the following information. In order to avoid delay, we suggest you discuss your requirements with our saddle fitter before completing the following steps.
Make your choice of seat size, tree width etc., if these need to be adjusted we will make these decisions in consultation with you after receiving your information.
Provide Three Pictures
In order to assess your horse, we would ask you to provide us with three pictures as described below.
Feel free to send as many photographs as you wish. A full-length picture of the rider will help us, although this is not essential.
You can send the information and pictures by e-mail to tom@tds-saddlers.com or by post or to our address as shown on our contact page.
Make sure your horse is standing on level ground

FIRST PICTURE – Taken from the rear nearside showing the shoulders and withers.
SECOND PICTURE – Taken from the front nearside showing the shoulder.
THIRD PICTURE – Taken from the nearside with the horse standing square, head up and looking forward, showing the top line.
How to Take a Wither Pattern
To make sure we provide you with the correct width of saddle we need a template of the horse's wither. Once you have a wither pattern please send to us by Fax (01420 563981 from UK or 0044 1420 563981 overseas) or by post. Alternatively scan and e-mail to tom@tds-saddlers.com.
Make sure your horse is standing square with head up and looking forward. From the near side feel for the top edge of the shoulder blade (Scapula). Lifting the nearside foreleg will help you this. When you have located the highest point of the Scapula use a piece of chalk to mark a point three fingers BEHIND it (towards the tail).
Taking this mark as your starting point mould a flexicurve (or piece of stiff wire) up and over the wither. Aim to reach 7-8″ down each side.
Squeeze and shape the flexicurve so that it hugs the contours of the horse's sides. Lift the flexicurve gently and put it down again in exactly the same place, it should settle snugly if it has moulded correctly. Lift it again and, carefully so as not to alter the shape, lay it onto a piece of paper and draw along the inside. Mark the nearside of the pattern on the paper and send to us.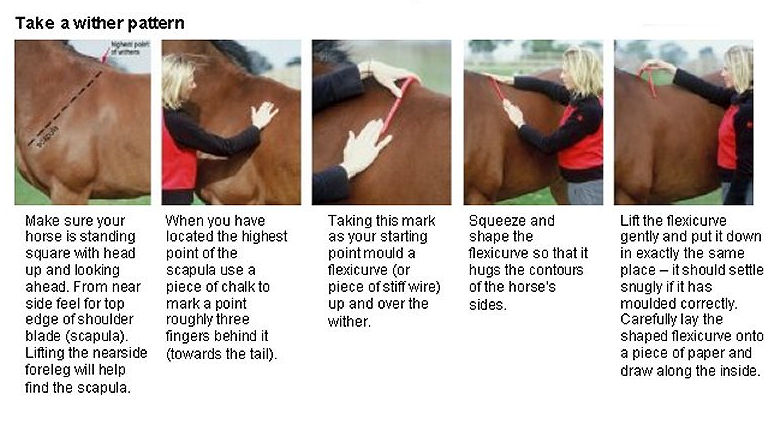 General Information
Seat Size
The seat size is measured in a straight line from the saddle nail at the head (either side of the pommel, at the front of the skirt) to the cantle's mid-point. Measure an existing saddle of a known size as a guide.
In general, seat sizes are: 15″ child, 16 to 16 1/2″ child to small adult, 17 to 17 1/2″ regular or larger adult, 18 to 19″ large adult
As a guide to the rider's correct seat size
You ideally should be able to place 3 to 4 fingers width between yourself and the cantle of the saddle.
The saddle will be most comfortable if it is purchased large enough for the rider to be able to stay away from the rise up to the pommel.
Trying the Saddle
To fully assess the fit and comfort of any saddle it must be ridden on the horse. Make sure you follow any detailed advice provided by TDS for the fit of your saddle.
When putting a saddle with a flocked panel onto a horse for the first time it may look a little raised, but this should not be excessive. It should, with the horse stood square on level ground and be girthed up, looked balanced.
When you receive the saddle from TDS please use a basic thin numnah to keep the saddle clean, unless we have specifically advised otherwise.
When mounted keep the horse in walk for 4-5 minutes to allow the saddle to settle. Check the girth tension as the saddle settles down.
Ideally, the horse should be worked in trot and canter, and over jumps if required. Some small movement may occur as the saddle settles to the horse. Work the horse on both reins and make sure you feel comfortable and in balance.
Check that your horse moves freely under the saddle and that you have at least two fingers clearance over the wither.
How Often Should a Saddle Fit be Checked?
We recommend that a professional assessment of the fit is carried out at least twice a year, three times for competition horses, to allow for seasonal condition, diet and work changes in your horse's life, which can result in changes to the fit of the saddle.
Flocked panels should have a complete change of wool at least every two years to maintain an even and absorbing contact. For horses in competition, this may well be reduced to eighteen months. This is outside of normal adjustment and management of the fit of the saddle.
It is particularly important to have the fit of the saddle checked if there is a major change in how you use your horse, if you progress from light hacking to competition, your horse will increases fitness, his muscle structure will alter accordingly, thus altering his shape. The opposite also applies, a competition horse that is changed to light hacking, or a stabled horse that is turned out, will lose condition which will change the fit of his saddle.